Landscaping Lighting To Transform Your Miami Exterior Spaces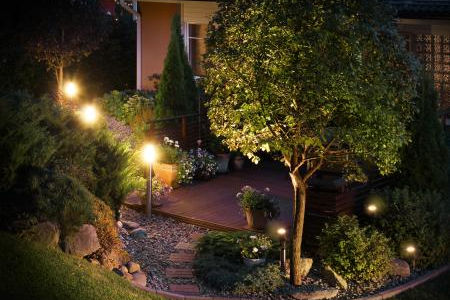 Landscape lighting is one of the best ways to improve the appearance of your property exterior. At Hybrite Electric LLC, we offer the best landscape lighting in Miami, with competitive pricing and a satisfaction guarantee.
Landscape lighting is often used for commercial areas, but residential properties benefit from it as well. When done correctly by a skilled electrician for Miami such as Hybrite Electric LLC, landscape lighting can completely transform your exterior spaces. Illuminating pathways and gardens are only a fraction of the lighting options available. Showing off your beautifully tailored and kept landscaping is possible twenty-four hours a day with professional landscape lighting.
You can choose from a wide variety of designs, fixtures, and even bulbs to create the perfect aesthetic for your Miami property. And for those with safety in mind, we even offer a security lighting service to keep you feeling secure. Whatever you have in mind for your landscaping lighting, Hybrite Electric LLC can do it.
Low-Voltage Outdoor Lighting
When it comes to landscaping lighting, keeping things low-voltage is a top priority. Not only does regular lighting often look overbearing on landscaping, but it is also not energy efficient. In addition to a better appearance and energy usage, low-voltage lighting comes with other positives, such as the option of whether to bury the cable or not, and there is a large selection of low-voltage lighting that can match your preferred style as well.
From different designs and layouts to fixtures and bulbs, the customizability of low-voltage outdoor lighting is perfect for anyone making choices for their landscaping lighting.
To learn more about why low-voltage lighting is the best option for landscape lighting, give us a call at 786-663-9961 to speak with an expert Miami electrician.
The Premier Electrical Company
Not everyone is made out to be the best electrical company for their region, but Hybrite Electric LLC doesn't have to worry about that with their industry-leading skills and reputable services. As the premier electrical company serving Miami and the surrounding region, Hybrite Electric LLC takes pride in the work we do, from simple electrical repairs to large-scale commercial installations. We have years of experience in our field, and understand what it takes to stand out against the competitors.
With our competitive prices and satisfaction guarantee, we are already a step above the rest. When you consider our plethora of services and our outstanding customer support, it's impossible to call us anything but the best.